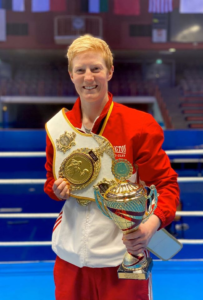 We just had a chat with our new and current Champion, ms Jem Campbell, an Amazing boxer that really deserved the title and won it without any doubt, We wanted to know her a little better so we had some questions to ask her and here you can read what she had to say.
1. When did you start boxing?
I started boxing in the 2014
2. Why did you start to box?
I had always been very sporty from a very young age, participated in all sports but mainly martial arts, I always seemed to enjoy combat sports. Then after the London Olympics I thought about getting into boxing as I wanted a new challenge. I went to a few gyms but at the time they didn't take women, I got a bit disheartened by this and time went passed and then I eventually took it up in 2014.
3. Who was your first trainer?
My first boxing trainer was lee Dagnell from Luton Academy
4. Who has been your hardest opponent?
It would have to be Nikita silver, she was in the army, I had only had about 6 bouts at the time when I boxed her and she had 11 and had won 10 by stoppages.
5. How many fights have you had?
26 bouts
6. How many wins and how many losses?
Wins 18 loses 8,
in the last 14 months I've had 12 bouts and won 11. At the start of my boxing career I boxed a lot of more experienced girls as I had good potential so wanted to push myself but this meant I had a few loses at the start of my boxing career.
7. How much do you train each week?
I train minimum 3 times a week at islington boxing club, which takes me an hour to get there each way, then I run and do strength and conditioning work on the other days.
8. How much rest time do you have over a year?
I normally have a few weeks off boxing at Christmas time because the gym shuts and then a few weeks in the summer after the season finishes, but I'm always still running and doing my strength and conditioning even if I have a break from boxing.
9. How many fights do you have each year?
I've only been at Islington boxing club since Oct 2018, so from then to now I've had 12 bouts, but prior to that I only had about 3-4 bouts a year.
10. Do you have any favourite boxers?
I enjoy watching Katie Taylor and Tyson frury
11. What do you think of professional boxers in the Olympic games?
I'm not keen on it personally, I think the styles are very different and the opportunities available to amateur and professional boxers is different. I personally feel that in most instances boxers that have had a very good amateur career make the best professional boxers.
12. You are the reigning Golden Girl, describe your feelings when you just received the announcement that you won the title?
I couldn't believe it, I was in shock, I was really not expecting it. There were so many talented girls who performed really well over the weekend, so it was a real honour to win it and it was just the icing on the cake after a really successful year. It was also great to win the Sweden Box Cup B class in 2019 and then win the Elite class in 2020.
13. When you came home with the belt, was there any reactions from friends or media?
Yes, my friends and family were very happy and pleased for me. With regards to the media it was very quiet thankfully, just my club put some articles in the paper because Islington Boxing Club as a whole did really well over the weekend, also winning best referee, another gold and 2 silver medals, so it was a great weekend for the female Islington Boxing Team.
14. Do you feel pressure coming back in November to defend it?
Yes obviously there's always some pressure when you're defending a title as everyone is looking to beat you. But I have competed well in the last 14 months with the pressure on me, so there's no doubt I will continue to rise to the occasion in November.
15. How do you rank The Golden Girl title?
I rank it very highly, especially after seeing the standard and experience of the previous winners. It's just an honour to be considered on a similar level to the previous winners.
16. What are your hobbies?
I enjoy running, going to the gym, seeing friends and family, travelling, surfing and reading
17. Your favourite meal?
It would probably have to be salmon and sweet potato
18. Your favourite actor?
Probably has to be Daniel Craig
19. Your favourite movie?
Casino Royale, I'm a massive James Bond fan
20. Do you look forward to the Golden Girl training camp
Yes I'm really looking forward to it, I've never hosted a training camp before, so it will be good to share some knowledge with other female boxers and I hope they take a lot from it.
We really thank our reigning Champion for taking her time answering these questions and look forward to her titledefense in november.
Due to the situation around the World right now, the trainingcmap in the end of may has been cancelled, but we will come back with a new date when it is possible again.
Thanks.
Read More