GET READY for Golden Girl Championship 2023. 3-5 february
A warm welcome to Borås, Sweden and the biggest female boxing tournament in the world. Golden Girl Championship 2022 invitation english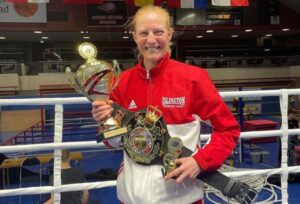 She did it again!
As you all know the defending Champion, Jem Campbell retained her crown after a hard fought tournament and a very good last bout against the Challenger Madeleine Angelsen. Jem Campbell is now automatically elected in to The Golden Girl Hall of Fame with her two time championship wins and is now among legends like Mira Potkonen, Marielle V Hansen, Tatiana Zrachevskaya.
Will she the first and only to become a three time Golden Girl, No one has ever been able to achive that. We salute our GOLDEN GIRL, Jem Campbell.
Here are the full list of winners:
The GOLDEN GIRL: Jem Campbell, Islington, England
The Peoples Champion: Fran Hennessey, Brighton and Howe; Eng
Best Elite: Jem Campbell, Islington, England
Best Youth: Fran Hennessey, Brighton and Howe, England
Best Junior: Ava Henry, Team Dublin, Ireland
Best Diploma: Isabelle Josefsson, AIK, Sweden
Best Team: Islington Boxing club, England
Best Techniqual boxer: Carina Mendes, France
Best Showmanship: Mona Husac, Team Golden Girl, Sweden
The Muhammad Ali award: Luna Maria Mairena, Aragon, Spain
Best Slugger/Brawler: Celeste Baillargeon, Canada
Prospect of the year: Irene Bleanos Romero, Spain
Best judge: Laura Weis, Islington, England
Best referee: Tom Svenonius, Sweden
Fight of the Year:
First time ever: Titlefight winner would take the belt.
Jem Campbell, England – Madeleine Angelsen, Norway
---
Here´s the official trailer for 2020
Get ready for The Golden Girl Championship 2020. Meanwhile check out the official trailer for this years Golden Girl Championship.
Golden Girl 2019 results
THE GOLDEN GIRL: Nien-Chin Chen, Taipei
Motivation: It was never a doubt, this was the most impressive exhibition we had ever seen, ms Chen makes boxing look like poetry, with small moves, hands down she makes her oponent miss and then punish them with extreme precise shots, with extreme talent and unbelieveble vision, making oponents miss, this was a true new champion there can only be ONE Golden Girl and: Nien-Chin Chen is the one!
Best Elite: Caroline Veyre, Canada
Best Youth: Nillada Meekon, Thailand
Best junior: Bojana Gojkovic, Montenegro
Best Diploma: Mariateresa Sannino, Italy
Best techniqual boxer: Caroline Veyre, Canada
Best Slugger: Vilma Viitanen, Finland
Fight of the year: Panpatchara Somneck Thailand – Lauren Dempsey, Ireland
Best judge: Patrik Eliasson, Sweden
Best referee: Muhammad Alsaidi, Iraq
Best Club/Team: Norway female box, Norway
Prospect of the year: Nicole Irgens Martinez, Norway
Questions? This is the site to visit and if that isn't enough please send us an e-mail and we'll give you the information you need.
Thanks