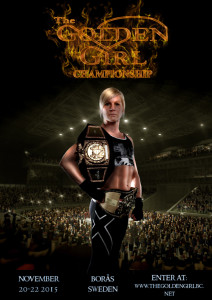 It is time to start to prepare your boxers for the main event of the year. THE GOLDEN GIRL CHAMPIONSHIP in november 20-22. 2015 The two time Champion and reigning GOLDEN GIRL, Mira Potkonen from Finland is aiming for her third belt or can someone stop her? That is one of the things we will know in november.
Don´t hesitate, prepare yourself or your boxers to come and fight for one of the hardest titles there is to win, THE GOLDEN GIRL.
only 4 girl has so far been able to win it and those are.
Hannah Beharry from Harringey, London. GB
Jemima Betrian from Netherlands
Marielle V Hansen, Bergen AK, Norway
Mira Potkonen, Team Finland
You can enter your boxers at: HERE
Most Welcome
Ray Husac
Managing Director/ Chief Organizer
phone:+46 (0) 735 945411