The dates have been set to 2-4 of february 2018. A warm welcome to Borås, Sweden and the biggest female boxing tournament in the world.
Get ready for The Golden Girl Championship 2018
Here´s the official trailer.
STILL REIGNING GOLDEN GIRL AND TWO TIME CHAMPION!

– Her name is Tatyana Zrachevskaia!
The jurys motivation: With an aura of strenght she rules the ring. Fast hands and with great power. She knows all distances and is very hard to hit. A worldclass boxer. Salut the new Champ! Tatyana Zrazhevskaia!
Invitation for GOLDEN GIRL 2018 is now official and you will find it below and under " invitation" in the menu. Entry is made directly with boxingeventservice.
Questions? This is the site to visit and if that isn't enough please send us an e-mail and we'll give you the information you need.
Thanks
Swedish Invitation: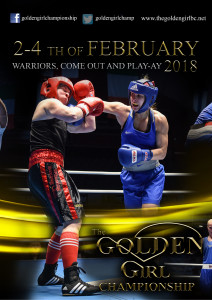 English Invitation: