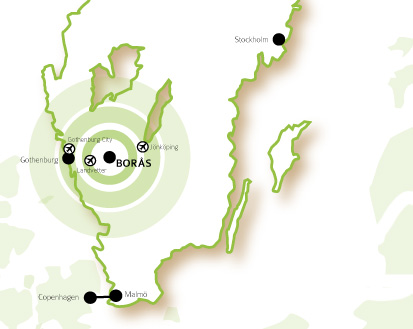 How to get to Borås
Borås is easy to reach by air, rail and road. Gothenburg Landvetter Airport is just 40 kilometres from Borås, with flights to and from the UK, the Netherlands, Germany, France and other international destinations.
Buses and trains arrive at Borås Central Station in the city centre which is walking distance to almost everything. If you're driving via Denmark, we recommend taking the quickest route over the Öresund Bridge and then north to Borås.
By Air
Göteborg  Landvetter Airport is West  Sweden's  international Airport, halfway between Göteborg and Borås. It offers 75 departures daily to more then 20 destinations. With airport bus or car you will reach the airport in approximately 25 minutes.
Best way to travel from Gothenburg Landvetter airport is by Taxi or bus, Flixbus has very good prices and it takes only 30 minutes from the airport to Borås.
Göteborg Landvetter Airport »
Flixbus from Landvetter Airport»
More information about Borås on boras.com
By Foot
The best mode of transport in Borås is to walk. The walk along river Viskan takes you between Borås major city areas, Borås City and Borås Event area – the home of Knalleland, Borås Arena and Borås Zoo.
Public Transport
The public transport system will take you around Borås by bus. Major hubs are Södra Torget and Resecentrum, both situated in the city centre. Information and time tables.
Read More