During all years The Golden Girl Championship has grown to be the worlds largest female amateur boxing tournament and so many athletes, coaches, media/journalists, non-participants has passed through the doors. The Golden Girl Hall of Fame will salute and honor some of the biggest names in respective category. A jury of 5 who has been around since day 1, 2009 and has voted.
Perhaps next time it´s your turn to be elected to The Golden Girl Hall of Fame.
---
MARIELLE V HANSEN
2 – TIME GOLDEN GIRL CHAMPION 2012 AND 2013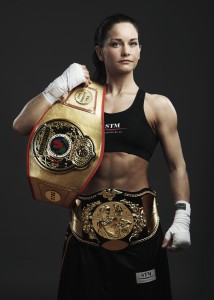 Marielle V Hansen came from Bergen AK in Bergen, Norway. Trained by Hall of Famer, Mr Hjalmar Styve, she boxed in a not so usuall style in amateur boxing, she was one of the fastest boxers we had seen in an amateur ring. With a style that reminded us of legends like Sugar Ray Leonard and Roy Jones jr. She moved in and out in any direction, she nailed every punch by tricking her oponent to open up their defense. Marielle knew her boxing inside and out and gave the audience an artistic style of the noble art of self defense. When she came back to defend her crown 2013 she was even faster and stronger, even more explosive. Marielle V Hansen moved in and out faster than ever! With sharp punches, swift moves she was in a class of her own. Short hard punches inside, with a heart of a warrior, standing toe to toe with the best, beating them with combining speed and power. Showboating as some of the great legends when needed, giving the audience what they wanted. Marielle was the first one to being able to defend her crown and one of the all time greats. During the years she won several big prizes. A true champion.
Memoria:
A Phonecall during bout from one of the jury members and former top professional boxer, during one of her bouts 2012: "Look at this boxer! She is the best female boxer I have seen, she moves like Sugar Ray. "He was obviously right, it was The GOLDEN GIRL to be – Marielle V Hansen.
We salute and honor our Two Time Champion – THE GOLDEN GIRL!
MARIELLE V HANSEN
---
TATYANA ZRAZHEVSKAYA
2 – TIME GOLDEN GIRL CHAMPION 2016 AND 2017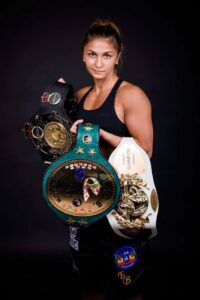 Tatyana Zrazhevskaya trained by hall of famer mr Igor Avakyan, came with the Russian national team hailing from Voronesh in Russia and was so outstanding during the tournament that no one was even close to beat her. With an aura of strenght she ruled the ring. Fast hands and with great power. She knew all distances and was very hard to hit, perfect defense, with dynamite in each punch she was a nightmare to meet. Explosive and allusive, a dangerous combination. Tatyana was and is a worldclass boxer. In a class of her own. When she came back the following year she was even better, training hard on the bags before each bout, just minutes before the bell rang she went out and beat every oponent infront of her, to go back to the gym and continue on the bags, this was a superathlete and everyone knew that this will be something special. Tatyana defended her crown and was not able to attend a third time since she became professional after that year. Of course she has won the worldtitle at WBC and are one of the best in the probox division as well. A magnificent Golden Girl and champion.
Memoria:
In her first bout she fought a swedish national team boxer and hit her so hard that the swedish girl chew trough her mouthpiece, a scary punch that still are remembered. The swedish boxer had a chin of steel to not go down. She foought one of the best ever – Tatyana Zrazhevskaya.
We salute and honor our Two Time Champion – THE GOLDEN GIRL!
TATYANA ZRAZHEVSKAYA
---
MIRA POTKONEN
2-TIME GOLDEN GIRL CHAMPION 2014 and 2015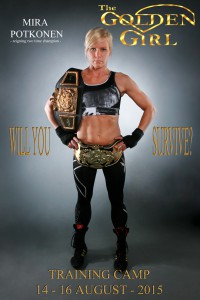 Mira Potkonen, trained by hall of famer, Maarit Teuronen, came to the tournament and was allready wellknown for her punchingpower, the rumors said that if she hit you, it´s over. MIra was of course as good as the rumors said and no one could stop her. With aggressive power and strenght together with killershots Potkonen destroyed everything in her way. She delivered her punches with precission and accuracy with extreme power. Mira Potkonen was and is a very dangerous fighter and a powerful champion. It was not a question if you will get hit, the question was how hard you would get hit. When she came back as a defending champion 2015 it was even worse, during three days she wiped out all her oponents that was national teammembers, it was an exhibition of a worldclass fighter and alegend to be. Mira Potkonen is a lethal fighter who carries dynamite in her hands. She went on to win great tournaments and also an Olympic bronze medal.
Memoria:  I recall one of the best officials we ever had there telling me that "I really hope I will be able to officiate a bout with Mira Potkonen, she is a worldclass fighter". He had luck that year and was the third person in the ring during one of her bouts, he still talks about that today. Mira was a brutal force in the ring but during Golden Girl camp we had the opportunity to meet her and she was of course totally different outside the ring, a very polite and kind person.
We salute and honor our two time champion -THE GOLDEN GIRL!
MIRA POTKONEN
---
JEM CAMPBELL
2- TIME GOLDEN GIRL CHAMPION 2020, 2022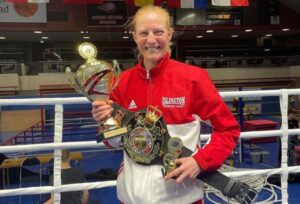 Jem Campbell  started in the biggest  version of Golden Girl ever and the title was vacanted cause former champion, Nien CHin Chen could not take part. Jem was classicly schooled in the noble art of boxing and fought her way through her oponents with in a very good style, a classic hit and don´t get hit, stick and move. It is not often you see that today, but here it was and obviously she won in a fair way, we had a new champion. The the pandemic striked the world and her own word when we had to postpone her training camp in Sweden as all champions have: I will not be able to have that camp cause I will never win this again. 2021 was postponed cause of the covid situation around the world. But once again in 2022 she came back to an ever bigger Golden Girl than alst time and defended her crown in a way that impressed, Jem Campbell was also involved in the first titlebout where the winner would take the belt. The bout between her and Madeleine Angelsen will become history. Jem came out the winner and retained her title and became a two-time champion. Wich includes her in to the Golden Girl Hall of Fame. She will now get her camp, that she never thought she would be able to have. Boxing fullfill dreams and she proved it! We salute our Champion and reigning 2-time GOLDEN GIRL champion – JEM CAMPBELL!
Memoria:
When we had to postpone the Golden Girl Sparring and tech camp both 2020 and 2021. Ms Campbell told me " Iwillnever be able to have that camp, cause I will never win this title again. Ray Husacs answer was: "You never know". We all know that she did it and she will now have her camp.
---
HJALMAR STYVE
LEGENDARY TRAINER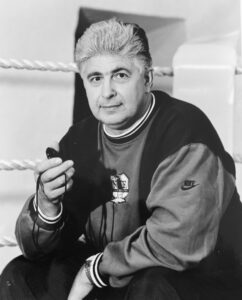 Mr Hjalmar Styve is legend on his own. From Bergen AK in Bergen, Norway. He has been training numerous boxers through the years to toplevel achievement. Anders Styve, Cecilia Braekhus among others to mention a few. He is one of few who REALLY know the noble art of selfdefense, to hit and not get hit. Mr Styves boxers are always spectacular and very hard to beat. At Golden Girl Championship he has trained the marvelous two time champion Marielle V Hansen 2012 and 2013, Veronica Losvik, Britt- Janne Mardal, Fam Egan. He has held The Golden Girl Sparring and tech camp several times together with his son Mr Anders Styve. Mr Hjalmar Styve has put his mark on boxing and if more trainers followed his lead boxing would be at much higher level. Mr Bernard Hopkins once said that we have lost the teachers and now we only have trainers. Mr Hjalmar Styve is a teacher in boxing and a man to listen to. A true hall of famer. Mr He has done so much for The Golden Girl brand, helping out with connections with toplevel coaches, giving from his knowledge about the sport, always polite and gentle. Boxing are a sport for gentlemen and he is a true one. A pleasure knowing him.It´s an honor to elect him to THE GOLDEN GIRL HALL OF FAME!
We salute and honor a legendary trainer – Mr Hjalmar Styve!
Memoria:
One time during the Championship two of his own boxers, Marielle V Hansen and Veronica Losvik fought each other and Hjalmar wasn´t in any of their corners, when we asked him later why, his response was: "I did not want the trouble when we came back home."
---
IGOR AVAKYAN
LEGENDARY TRAINER
Mr Igor Avakyan from Voronesh, Russia. is the trainer of Hall of Famer Tatiana Zrazhevskaya, 2- time Golden Girl and current WBC Worldchampion. Mr Avakyan has been training several boxers to toplevel achievement and also been a coach for the Russian national team. He is a mastermind in boxing and a very skillfull trainer. mr Igor Avakyan has won the GOLDEN GIRL belt 2 times with Tatyana Zhrazevskaya and held 2 training camps for Golden Girl, he has also had seminars for coaches in the Golden Girl programme to educate coaches to a higher level. His focus on the athlete is at highest level and the result speaks for its self. He create worldclass fighters. Mr Igor Avakyan is one of those who really know the game and today his focus is on the WBC worldchampion, Tatyana Zrazhevskaya former 2 – time GOLDEN GIRL champion. It´s an honor and a privilege to be able to elect him into The Golden Girl Hall of Fame.
We salute and honor a legendary trainer – Mr Igor Avakyan!
Memoria:
During Golden Girl Championship when Tatiana was fighting, mr Avakyan was not inher corner, he was sitting in the audience shouting advioce to her and she was listening and brought home the belt. When we asked him why he was in the audience that time instead of in the corner he answered with a big smile: "I was to nervous."
---
MAARIT TEURONEN
LEGENDARY TRAINER
Maarit Teuronen is working as the Women's Olympic Coach for the Finnish Boxing Federation. The project started after Rio and finishes after Tokyo. She is training for example Eveliina Taimi, who won Youth European Bronze medal in 2019 and Finnish Elite National Championships in 2020. She has trained other Finnish Elite National Champions during the past years such as Camilla Elo, Lotta Loikkanen, many national medalists and also few Youth and Junior boxers. She also trained Elina Gustafsson in 2017-2018 when she won European Championships. It is a VERY experienced coach both inside and outside the ring, had an incredible carrier as a boxer before she became a coach. Maarit won the GOLDEN GIRL belt twice, so far, with superstar and Hall of Famer, Mira Potkonen 2014 and 2015 and held 2 The Golden Girl Sparring and tech camps, that still are some of the most remembered camps among the girls. Ms Teuronens boxers are always very strong and welltrained and Maarit knows her boxing inside and out. It is a honor being able to elect Ms Maarit Teuronen to The Golden Girl Hall of Fame.
We salute and honor a legendary trainer – Ms Maarit Teuronen!
Memoria:
During the second Golden Girl Sparring and tech camp 2015, she was so popular that even mr Ray Husacs own wife, Mona Husac, said that Maarit is the supercoach!
---
TIBOR KINCSES
Mr Tibor Kincses is one of those who does marvelous work for boxing around the world. If you have read any articles about amateur boxing on high level we can almost assure you that mr Kincses is the one who has written them. He travels around the world, following all major events. He is PR and Communication Director for ASBC, PR and Communication advisor for AIBA and PR and Communication advisor for EUBC. His work is of great importance for whole boxing around the globe and for The Golden Girl Championship. we are so we are so grateful for what he has done!   What Mr Kincses doesn´t know about boxing is not worth knowing, he know it all. Constantly working for the sports best and are always polite and always takes time to talk to you. If more people was like Tibor Kincses, boxing would be at a much higher level in media all around the world. It is with great pleasure we elect mr Tibor Kincses to The Golden Girl Hall of Fame – a true gentleman and a pleasure knowing him.
Memoria:
During one of the times he and his wife, Margit Kincses, visited The Golden Girl Championship we needed some information about different boxers history and we could not find any. Tibor just smiled and 3 minutes later we had received the information. He knows all boxers and their results, a mastermind in boxing and a very good man. We salute and honor a true gentleman in
boxing – Mr Tibor Kincses.
---
ANDERS KIHL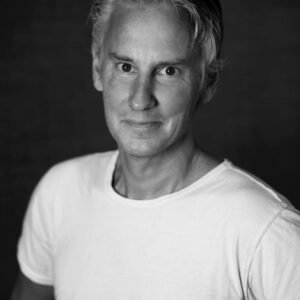 Mr Anders Kihl works for the city of Borås and is an expert in digital marketing and social media. He has tought us everything there is to know about this. Mr Kihl has worked with us through all tournaments since 2011 and has always been a man to rely on. His ideas and advices has made a great impact on our ways to market King of the Ring and The Golden Girl Championship. We are so proud to announce that he has been elected to King of the Ring Hall of Fame.
We salute and honor mr Anders Kihl as a Hall of Famer in the sport.
Memoria:
Ray Husac, organizer recalls: During our many meetings it soon became known that we shared an interest in the same field, we where both big Star wars fans!
Read More