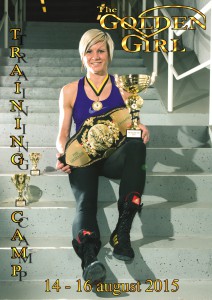 It is time to enter one of this years best trainingcamps, with one of the best trainers in the world, ms Maarit teuronen and The reigning two time GOLDEN GIRL, ms MIRA POTKONEN.
Would you like to take part? well in that case you need to hurry. There is only 40 openings for this camp and 21 of them has already been taken, 19 more boxers then the camp will be full. enter yourself or your boxers now. Read more about this camp in our top bar " training camp"
Information:
It is time for the forth "GOLDEN GIRL TRAINING CAMP" and once again with reigning two time Champion, Mira Potkonen from Finland. Head coach for the camp is a legendary trainer in Finland ms Maarit Teuronen, we are very proud for having them here again, last years camp was very popular. The camp will be held in august 14-16 and this time we will have the camp in one gymnastic hall seated in Skene, close to Kinna. Kinna is a small town 30 km south of Borås where the championship is held every year. Kinna has hotel and hostel around 1 km from where the camp is held,  so it is good if you have a car or leader with you who can help out with transport for you.
You need to bring bring equipment for indoor and outdoor training, boxingequipment such as sparringgloves, headgear, mouthpiece( gumshield). If you plan to sleep over in the gym  (hardfloor) , please bring sleepingbag and such. It is not any cost for this, it is for free.
If you want to stay at hotel or hostel their contactinfo will follow further down.
We will also start THE GOLDEN GIRL LEAGUE during this camp and it´s first competition is held on sunday, august 16 and if you want to compete just let us know, if not, thats absolutely no problem.
Here is a schedule. Changes might occur later.
FRIDAY:
17.30: All participants meet up at the training facility in Ängshallen in Skene,  Adress: Ängshallen, Gästgivaregatan 7, Skene
18.00-19.30: first training session
Saturday:
08.00-09.00 Training session 1.
09.00 – 10.00 Breakfast served at the training facility
11.00 – 12.45 Training session 2.
13.00 – 14.00 Lunch, will be served at the training facility
15.00 – 16.00 Anna Laukkanen will hold a lecture. this will take place in another building, we will guide you.
16.00-16.45 The Golden Girl, Mira Potkonen, will answer all your questions
17.30 -19.30 Training session nr 3.
20.00 – 21.00 Supper will be served at the training facility.
Sunday:
08.00 – 09.00 Breakfast will be served at the training facility
10.00 – 11.30 Training session 1.
12.00 – 13.00 Lunch will be served at the training facility
15.00 – 17.00 THE GOLDEN GIRL LEAGUE Competition and sparring for those who wants to participate and  completion of The Golden Girl Training Camp 2015.
Some small changes can occur.
Accomodation:
Hardfloor: In the gym is free for everyone, you have to bring your own sleepingbag and such. We just need to know if you will chose this, please contact us at: rayhusac@telia.com
Hostel: Is free of charge for swedish girls between 10-25 years old, since the swedish federation pay for this. All other nations has to pay this accomodation them selfes.
Hotel: Is something you have to pay for your self.
Airport: Landvetter airport 40 minutes from Kinna/Skene.  website
Breakfast and lunch: Is free and will be served at the traininggym. All other meals has to be provided by the participants.
If you need any more information, please contact us at:
Ray Husac
+46(0)735-945411
When: august 14-16, 2014.
Where: Ängshallen, Skene Adress: Ängshallen, Gästgivaregatan 7, Skene
Hotel: Kinna Stadshotel: Rättaregårdsgatan 2. 51154 Kinna. Phone. +46(0)320-143 00. website
Hostel
: Lilla Sanden: Tallåsgatan 2. 51154 Kinna.
Phone:
+46- (0)320-12235.
website
(If you have entered the camp and by any reasons won´t be able to attend, please let us know as soon as possible, a lot of girls want to take part and we are full as it is. If someone can´t take part we can give that opening to someone else. But we hope you really can come.)
Very welcome
Ray Husac
The Golden Girl Championship
– See more at: http://thegoldengirlbc.net/category/training-camp/#sthash.S0eiygap.dpuf
Read More