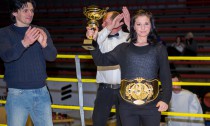 Marielle V Hansen, Bergen AK Norway
She is one the fastest boxers we have seen in an amateur ring. With a style that reminds us of legends like Sugar Ray Leonard and Roy Jones jr. She moves in and out in any direction, she nails every punch by tricking her oponent to open up their defense.
Marielle is what we want in a Golden Girl, she knows her boxing inside and out and gives the audience an artistic style of the noble art of self defense. We would like to congratulate our Golden Girl!
Read More