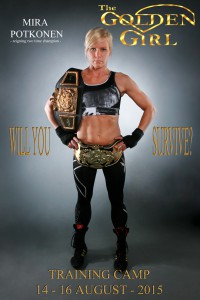 The reigning, two time,  GOLDEN GIRL, MIRA POTKONEN is on her way and willsoon be with us in this years best and most anticipated training camp. almost 60 female boxers from all over europe will come and train with Mira and her great trainer, as some say " The coolest trainer" Maarit Teuronen.
There will be a lot of training, lectures by Swedens national coach for female national team Mr Klas Sandberg, there will be a possibility to ask the reigning champion some questions and with some luck? you will be able to mix punches with the strongest and most hardhitting Golden Girl ever – MIRA POTKONEN!
Are you ready? We are!